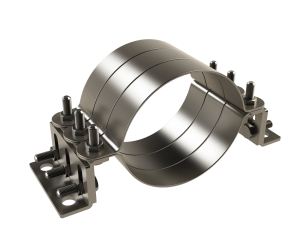 The EXCO AAB Adjustable Anchor Bracket banks either 2 or 3 Split split bands on a set of steel clean which can be adjusted for height and fall.
As a standard up to 54mm od bands will be powder coated with larger sizes BZP for steel pipes or powder coated for copper & stainless steel.
Other band combinations are available upon request including brass, stainless steel & thicker profile steel bands.
| Pipe Size | Brand Material | Band QTY | Finish | SWL (kN) |  Part Code | Torque Settings |
| --- | --- | --- | --- | --- | --- | --- |
| 15 | 25 x 3 | 2 | Black Powder Coat | 2.0 | AAB1015 | 40nm |
| 22 | 25 x 3 | 2 | Black Powder Coat | 2.0 | AAB1022 | 40nm |
| 28 | 25 x 3 | 2 | Black Powder Coat | 2.0 | AAB1028 | 40nm |
| | | | | | | |
| 15 | 25 x 3 | 2 | Black Powder Coat | 2.0 | AAB1022 | 40nm |
| 20 | 25 x 3 | 2 | Black Powder Coat | 2.0 | AAB1028 | 40nm |
| 25 | 25 x 3 | 2 | Black Powder Coat | 2.0 | AAB1035 | 40nm |
| | | | | | | |
| 15 | 25 x 3 | 3 | Black Powder Coat | 3.0 | AAB2015 | 40nm |
| 22 | 25 x 3 | 3 | Black Powder Coat | 3.0 | AAB2022 | 40nm |
| 28 | 25 x 3 | 3 | Black Powder Coat | 3.0 | AAB2028 | 40nm |
| 35 | 25 x 3 | 3 | Black Powder Coat | 3.0 | AAB2035 | 40nm |
| 42 | 30 x 3 | 3 | Black Powder Coat | 6.5 | AAB2042 | 60nm |
| 54 | 30 x 3 | 3 | Black Powder Coat | 6.5 | AAB2054 | 60nm |
| 67 | 30 x 3 | 3 | Black Powder Coat | 6.5 | AAB2067 | 60nm |
| 76 | 30 x 3 | 3 | Black Powder Coat | 6.5 | AAB2076 | 60nm |
| 108 | 40 x 3 | 3 | Black Powder Coat | 8.0 | AAB2108 | 60nm |
| 133 | 40 x 3 | 3 | Black Powder Coat | 8.0 | AAB2133 | 60nm |
| 159 | 40 x 3 | 3 | Black Powder Coat | 8.0 | AAB2159 | 60nm |
| | | | | | | |
| 15 | 25 x 3 | 3 | Black Powder Coat | 3.0 | AAB2022 | 40nm |
| 20 | 25 x 3 | 3 | Black Powder Coat | 3.0 | AAB2028 | 40nm |
| 25 | 25 x 3 | 3 | Black Powder Coat | 3.0 | AAB2035 | 40nm |
| 32 | 25 x 3 | 3 | Black Powder Coat | 3.0 | AAB2042 | 60nm |
| 40 | 30 x 3 | 3 | Black Powder Coat | 6.5 | AAB2040 | 60nm |
| 50 | 30 x 3 | 3 | BZP | 6.5 | AAB2050 | 60nm |
| 65 | 30 x 3 | 3 | BZP | 6.5 | AAB2065 | 60nm |
| 80 | 30 x 3 | 3 | BZP | 6.5 | AAB2080 | 60nm |
| 100 | 40 x 3 | 3 | BZP | 8.0 | AAB2100 | 60nm |
| 125 | 40 x 3 | 3 | BZP | 8.0 | AAB2125 | 60nm |
| 150 | 40 x 3 | 3 | BZP | 8.0 | AAB2150 | 60nm |